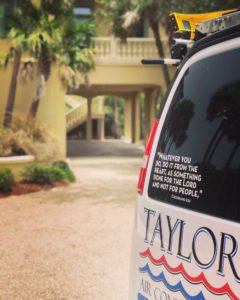 Taylor Air Conditioning and Property Services is a Christian family-owned and operated business located in Apalachicola, Florida. We offer prompt, reliable and top-quality HVAC installations, repairs and maintenance to homes and businesses. We proudly serve residential and commercial customers in Apalachicola, Eastpoint, Carrabelle, Alligator Point, St. George Island, Cape San Blas, Port St. Joe and Indian Pass.
"Whatever you do, do it from the heart, as something done for the Lord and not for people…" Colossians 3:23 CSB
Displayed on all of our service vehicles, this Bible verse drives everything we do here at Taylor Air Conditioning and Property Services. We look to this verse for inspiration and encouragement each and every day.
Our Vision
At Taylor Air Conditioning and Property Services, we promise to:
Glorify God
Provide excellent service
Be a blessing to those around us
Be a faithful, dependable business
We proudly serve homes and businesses in Franklin and Gulf Counties: